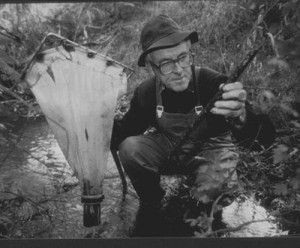 The late W.D. (Bill) Williams was a driving force in Australian limnology and passionately interested in salt lake research and conservation. In 1973 he wrote Inland Waters and Their Ecology, with I.A.E. Bayly. He also wrote a number of other books on salinity and inland waters between 1972 and 1999. Bill was born Liverpool, England, 21 August 1936 and educated at the Universities of Liverpool (BSc 1956, PhD 1960, DSc 1974) and Monash (DipEd 1974).
He arrived in Australia 1961 as Lecturer/Senior Lecturer/Reader in Zoology, Monash University until 1973. Bill accepted the position of Professor of Zoology at the University of Adelaide in 1975.
In 1995 on his "retirement" he became Emeritus Professor and Honorary Visiting Research Fellow. Over the years Bill was the recipient of many awards including the Jolly Award, Australian Society of Limnology; Verco Medal, Royal Society of South Australia 1990; and Fellow, Russian Academy of Natural Sciences. Bill passed away after a bitter fight with leukemia, in 2002.
His exuberance and love of science was infectious and inspired a generation of new limnologists. The first W.D. (Bill) Williams Awards for superior young scientist presentations were awarded at the 9th International Conference on Salt Lake Research, held in Perth, Australia and have been presented at each ISSLR conference since. There are two awards – one for the best lecture and one for the best poster. Each award consists of a certificate and money prize (750 USD).
---
List of Bill Williams Award winners
---
2021 Murcia, Spain
Oral presentation
Attila Szabo (Hungary): Fresh, soda and saline: the effect of salinity and water chemical types on bacterial community composition based on global data.
Oral presentation
Yongjie Lin (China): Hydromagnesite precipitation in the alkaline lake Dujiali, central Tibet Plateau: A natural analogue for carbon storage.
---
2017 Ulan-Ude, Russia
Oral presentation
Long Li (China): Thermodynamic properties of lithium borates and their aqueous solution systems
Poster
Elena Anufriieva (Russia): Abundance and the ecological role of Eucypris mareotica (Crustacea, Ostracoda) in the Crimean hypersaline lakes
---
2014 Grand Epoch City, China
Oral presentation
Wang Shuli (China): The Cambrian brine origin in Tianba County, Chongqing City, China
Poster
Luo Yuhan (China): Preliminary measurements of boundary layer reactive halogens based on MAX-DOAS technique over salt lake in West China
---
2011 Mar Chiquita, Argentina
Oral presentation
Nadja Schmidt (Germany): Hydrogeological and hydrochemical exploration of a lithium-brine deposit: the Salar de Uyuni, Bolivia
Poster
Mercedes Mufarrege (Argentina): Adaptability of Typha domingensis to environments with high Ph and salinity
---
2008 Salt Lake City, USA
Oral presentation
Brian Schubert (USA): Bacteria, archaea, and Dunaliella trapped in fluid inclusions in ancient halite, Death Valley, California
Poster
Stefania Maniatsi (Greece): A population-specific marker within the superspecies Artemia franciscana
---
2005 Perth, Australia
Oral presentation (awarded to two persons as they were both outstanding)
Michelle Hindle (Australia): Mapping and modelling Australian black swan feeding habitat from lake Wollumboola, NSW, Australia
Lien Sim (Australia): Key factors in the conservation of submerged plant communities in secondary salinised wetlands
Poster
Courtney Salm (USA): Modeling primary production patterns in prairie saline lakes of the great plains, USA